.: Finally Got Home
It's been weeks since I updated this! I have been so busy with school work. Literally busy that I haven't slept at home for the past 2 weeks. Since I didn't have any laptop then, and I had to do paperworks, I was sleeping over at my friend's house to complete our term papers. During those weeks, I haven't had any good sleep at all. The longest would have been 3 hours, I guess? I was so cramming that I even slept during class hours! It was fun though, staying up late with Earl, Jo, Tatsuya, and Dianne. We even called Earl's house, EBB (Earl, The Big Brother). HAHA!

Anyway, I got a laptop now. It's big, though. A Compaq Presario V5000. Similar to Hiyono's. Not exactly the best school laptop but it's better than nothing, right? Thanks Uncle! I have something to use for the meantime for my paperworks. Having none caused me to cram so much that it might endanger my scholarship! I can still avail of the 7 days revision period though in case my papers get referred. It sucks..

I want to thank you guys for advising me regarding what happened to two of my friends. I talked to each of them to know their sides. What's happening right now is that James isn't coming to school anymore, and the conflict that happened is only one of the reasons he's stopping school. I'm pretty sure his parents do not know about this because he's been lingering around the city wearing the school uniform. Some of my friends even see him in the lobby during class hours. I tried to talk him out of it but he just won't let me help. Another thing is, James and Mike are still not speaking with each other. I have a feeling that they won't be getting their friendship back at all. It's sad, yeah. But what can I do? We tried to help him, yes, WE. Mike had been secretly asking me about James. So he still cares.


This March 3 would be the Grand Coronation night for the Binibining Pilipinas 2010. Gwendoline Ruais, our previous student council president, got to be one of the candidates in the competition. Of course, the whole school is rooting for her victory. We were actually given limited free tickets and transportation to the event on Saturday to support her. It will really be great if she get to be the candidate for the Miss World or Miss Universe.
So 'til here! Still got a LOT of paperworks to do. Sorry if I am not able to visit your blogs lately. I can't even prioritize sleep for myself. Sleepless nights starts again this week. :|
Schedule of Submissions:
Monday -
Business Law
Tuesday -
HR Staffing
Wednesday -
Conference and Banqueting
Thursday -
Research
Note that I have only started doing these term papers last week. Goodluck for me. :|
Plug >>
Eri
,
Rozeh
&
Ruusu
Saturday, February 27, 2010 l 10:13 p.m.





.: Confounded
It's Monday. I completely have no idea what to do with my closest friends having conflict because of me. It's almost a month and they still won't speak with each other. What should I do?! Huhu. I'll try to conceal their identity by calling them James and Mike..

It was during the last week of December when I invited both of them to my high school friend's house party. We all had fun, contrary to what Mike was thinking of being "out of place" at first because he doesn't know anybody else aside from me, James and two of his friends. We were finally leaving when James suddenly asked Mike to have a private talk somewhere. The next thing I know, both of them are on bad terms already.

As Mike drove me home, he told me the story. This was the conversation they had..(as far as I could remember).

Mike: "Bakit, ano problema?" ("Why, what's wrong?)
James: "Tsong, wag mo kong gawin tanga." ("Dude, don't make me look stupid.")
Mike: *taken aback* "Ha?" ("Huh?")
James: "Wag mo nga ako siraan kay Chi." ("Don't speak ill of me to Chi.")
Mike: "Bakit naman kita sisiraan sa kanya?" ("Why should I speak ill of you to Chi?")

And he was badmouthing Mike. James didn't show up during the first week of classes. Until earlier. He attended only one subject, and left right after. He actually likes me, you see. But we talked it over two months ago, since we were so close already I only wanted us to be friends, and not destroy the good relationship we have by being together and ending up hating each other in the end. I presume he's okay with that already. I understand if he still got feelings for me. But I don't think it's right to confront our close friend because of a simple misunderstanding. I thought they were going to get along if time passes by, just to let their anger subside. But it got completely different two nights ago.
My friend and I were so bored last Saturday that we decided to watch a movie together. James texted me if I'd like to drink that night, and since I have nothing else to do on a Saturday night after watching "The Imaginarium of Doctor Parnassus" in the cinema, I said yes. But I didn't mention I was with Mike at that time because he would obviously confront him again. And so, Mike and I decided to get a booze for the meantime before I meet up with James. And to a great shock, James was there at the Cabooze Bar we went into! He was with two of his friends we brought along in my highschool friend's house party. I was completely frozen and didn't know what to do! Thinking that this must be an opportunity for them to make up, Mike went to their table, and I followed. They we're faking it, just so there wouldn't be any trouble. But as Mike and I left the bar, James was texting him, which definitely made Mike heat up. I seriously didn't know what they have been talking about, but Mike went back to the bar to talk to James. I was really nervous at that time since I completely thought they were going to have a fist fight. Thank goodness they didn't. Hoo!
Though at the end of the day, the situation only got worse. Mike would have already decided to make up with James during that night, but because of what James texted him, it changed his mind. Seriously, why does it have to happen like this? What did Mike do to cause this big damage to their friendship? Is there anything I can do to get them back together? Ugh. Knowing James for almost 2 years, he's too hard-headed to make up with Mike. I don't think they will be on good terms with each other soon. :(
Monday, January 25, 2010 l 08:19 p.m.





.: I feel like crying.
It's actually not time for me to update my blog as scheduled in my New Year's Resolution, but there is nowhere for me to voice out my feelings right now. Perhaps, this might be moments where you may refer to me as someone being sensitive and emotional over petty things, but not EMO. In Philippines, I might call this as badtrip.

There are just so many things that makes me feel that way tonight. It might be totally coincidental, or I'm just very unlucky today.

1. It's the first day of school for my 3rd Term in my 2nd year of Hospitality Management in Southville Foreign University today. I haven't enrolled yet. Because there was misunderstanding in the e-mails sent to be reminded of the money for my enrollment. I got "kinda" scolded in the e-mail to send the reminder at least one week before the day of the deadline, which I did, but overlooked it. So I sincerely apologized. Took it as my complete mistake. So I sent a promissory note to the school, eventually, they let me in.

2. I lost/misplaced the cream for my allergy. I have no idea where I placed it. I remember using it for the last time this morning in the bathroom. Now it's gone. This is something I save up for, because I don't want to be a burden to my parents. So I got completely disappointed that it's gone when I'm actually saving every drop of it.

3. I spent more than my allowance for today, so I'm short of allowance for this week. Okay, this is more of my choice. But it's one of the things that makes me feel bad tonight.

4. Beshy's being pushy, again. Most of all, I don't want any other people pushing me to do things that I already know. Especially, my responsibilities like washing dishes, etc. I don't want to speak it out loud because I don't want to make big fuss over it.

5. HALOSCAN's making me pay for the comment tool, now. Fook them. Even if it's only 500php, it's a hassle to create a credit card or ask somebody to who has one to pay for my haloscan comments. It's even a burden for me to extract an extra out of my monthly allowance!

6. Laptop's dead. Files not recovered. How can you tell me I would survive Southville Foreign University without a laptop? Some would consider it FAILED. But I would not want to disappoint my loved ones. So I still do my best. But I can't help feeling this way. I am still a human being.

7. Friends?. I feel really alone now. I got really excited going back to school today, thinking that everything will be as fun as before. But now that my close friends transferred to other schools, had girlfriends/boyfriends and got busy, I was left all alone. There were no single moments that I would be alone in the hallway every single day last year. But it's the opposite way, right now. Just what my my highschool friend, JC, said before, You won't have any permanent friends in college. I'm getting tired of the same things happening to me all over and over again every single day.

These do not make sense, you might think. This is the reason why I don't speak to anyone about this. Not that I'm embarrassed to. Even I accept that these are such trivial matters to make my day go bad. The only person I can talk to right now would be my Mom, who's currently far away from me since I'm living with my Tita. I really miss her. She's the only one who could really make me feel better.

It has really been a long time since I felt somebody does care for me.

Plug >> Chi
Monday, January 11, 2010 l 09:45 p.m.





.: 2010
Happy New Year! It's honestly been 8 days since the first of January and I guess it's late for me to greet all of you, blogmates. LOL! Kidding! :P I'm updating this today since not only because I''m bored, but I made it as a New Year's Resolution to keep adding an entry weekly. And of course, how can I forget visiting yours? I went on hiatus for a very long time last year that I almost thought I'm giving up on blogging completely. Thank goodness, I haven't. Haha!


Media Noche
with my cousins at Mandaluyong. They are actually my 2nd cousins, but the only ones I'm really close with. Most of my relatives are either out of the country, or very far away from my place that it will be impossible for me to travel there in the span of 2-3 hours. Sadly, we didn't use fireworks, but watch the others risk their lives instead. LOL! But despite the absence of the fireworks, it was great eating lots of food and singing in the karaoke with my relatives. Too bad I was not able to use my culinary skills since my cousin and I went malling on the 31st. (Escape from errands!)
It was last Tuesday when my classmates (Earl,
Joie
,
Angelo
,
Oneng
) and I went out to see a movie called
"Inglorious Bastards"
after submitting our paperworks at school *crosses fingers for a pass*. (Sorry I'm not able to give their FBs. Links won't work, trust me.) I tell you, I've never seen a more realistic gore movie in my entire life! It stars Brad Pitt, being a leader of a Jewish-American soldiers against the Nazis occupying France during World War II. It was supposed to be shown in the Philippines last December 2009, but due to the MMFF..
By the way, I haven't really given any gifts to anyone last Christmas. Yes, how mean of me! It just so happens that I had to invest on something last December that really made me bankrupted. I wasn't even able to go out with my friends! And I bet in the back of your mind, "excuses!"...Haha! JK! So what came into my mind was to create a gift that couldn't be bought anywhere else in the world. That is, to make something similar to Goong dolls!

I find these bears, remarkably cute!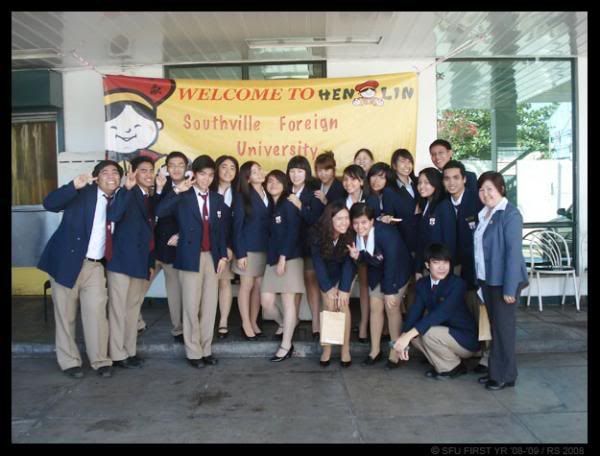 Our uniforms are somehow similar to Princess Hours's school uniform. This was when we visited the Hen Lin Factory last school year. The other half of the class were still inside..



Especially the guy's uniform. The skirt only differs for girls.


I'm planning to buy bears such as those above and make the uniforms with the help of my cousin,
Mabel
, whom I really thank for agreeing to cooperate with me! (That's because I promised her to have one of those we will be making. So she better teach me right or else the bear she might get would be so messed up! LOL.) I plan to give those to my closest friends during Graduation. So they won't forget the moments we shared together..*wink*
So now, I'm simply waiting for Tita. I'm really craving for the
Adobo
downstairs and we have to eat together!! Nyaa..
Plug >>
Aehlyn
&
Lexis
Hoo! Watta long entry. God bless everyone!
Friday, January 8, 2010 l 04:41 p.m.





.: Oh the pain...
I am over-fatigued!
I had this TEAM BUILDING training in Pansol, Laguna and I just got home this morning feeling muscle pain all over my body. As soon as I finished washing up, I slept immediately. I forced myself to wake up to turn my laptop off, and when I was about to go back to bed I completely thought I was NOT going to wake up anymore and die instead due to exhaustion..yet I slept anyway, even if my mind was at the point of saying goodbye to the world.



We left at exactly 6 AM last yesterday (though the meeting time was actually 4:30 in the morning), we had breakfast at Jollibee as we reached Laguna while the facilitators were still preparing the venue. I didn't think the place could be so relaxing since the Altitude Wonder Spring is located at the very top of Laguna!

They chose a really good site, and the view was awesome! I will show you the pictures as soon as they are uploaded.



Trainees were around 29 (mostly teenagers), 10 of them are my college friends and the facilitators as well. At first, I thought it would be an ordinary training seminar, simple lectures and note-taking, but it all got different as soon as the clock striked 10. We had PHYSICAL activities. And yes, these were the reasons why my body burned out. Adding the fact that I swam in the pool right after that.

The task were excessively DIFFICULT, I tell you. The last task took us about 3 hours, repeating it all over and over again until we get it perfectly. I was so sleepy, and had no sense of participation at first, but I made a mistake that caused the team to start again.
This made me realize that if I didn't focus, my teammates and I won't be able to rest until the task was finished. I'm not the only one who's tired, so I should do my part as well. Being able to accomplish it from 10 PM to 1 AM made me really feel fulfilled! It was like a party when the last trainee did the task well. Out of excitement, we all swam in the pool to celebrate. It was the end of the training session, and we're the BATCH 5 to graduate from this devastatingly challenging, life-threatening (seriously, almost killed me of exhaustion) team building training. CONGRATULATIONSH!


I am happy to get through this.
I learned a lot really. I didn't think I would get attached to something I had no commitment at first. This experience is something I would truly treasure forever. Working with some people I'm not close with, or even strangers, when pushed under pressure to accomplish similar goals as a team, allowed me to experience unity in several wonderful ways. By the way, I'm sorry if I'm not telling you the exact activities we were doing. We are actually prohibited to tell anyone. Who knows, you might be the next to experience this. I would not want to rob you off of the feeling of sweet victory. Trust me, it feels really great to accomplish something of your own efforts. I would, of course, like to thank God for this great opportunity. Accidents don't happen without a purpose. There must be a reason why Ate Leyz and Kuya Mark (two of the facilitators) were forcing me to attend the seminar last Monday in Ortigas, and finding out that it was the day of signing up for the Team Building Training. The first 50 are the only ones allowed to come including the facilitators.

So I got to go for now! I still have to do my paper, which I have to submit tomorrow. Grr..despite my body pain. I'll update this entry for the pictures later. Ja!

Plug >> Aya

EDIT!!

Sorry, it took time for me to upload the pictures. The bad thing is, these are only what I got. HAHAHA. You may click the pictures for a larger view.
Sunday, December 6, 2009 l 09:58 p.m.





.: Korea!
I didn't think I'd lose it all. My back-up files were gone. I was so ready to have my laptop reformatted and the next moment I checked my back-up copy crashed. But I don't have the original copy of some of the files anymore. Including the only entry I made about my special friend and I was supposed to put it here soon. Too bad I won't be able to show you.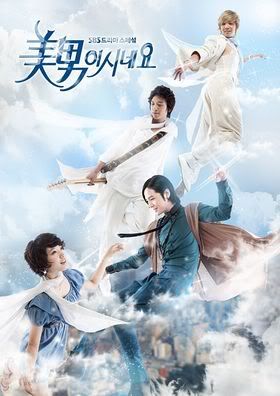 Do you know this series? It's airing in Korea right now and it's about to end. Oh yes, I got unexpectedly addicted to it. I completely thought that this drama my classmates were going gaga over during our class hours was just an average drama around, but it turned out to be something different. I would not want to compare it to Full House, Princess Hours or Coffee Prince, because they have different plots. Yet, I can totally say that I have had more laughs and
kilig
-moments with this compared to my other favorite series. I can't get enough of Jang Geun Suk! *points at current desktop*

What's great about the Korean entertainment industry is that all of them are just so talented. You would have to be able to dance, sing and act just to get really that famous. That's why I am addicted to You're Beautiful's OST now! Just what my friend said, "Watch, and you'll never regret it".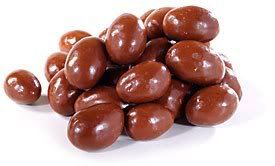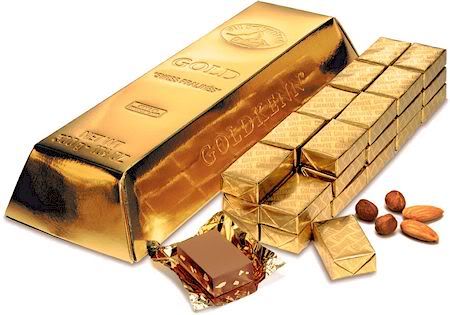 Two weeks ago I received these chocolates from my two of my close friends.
DOMO! The almonds were my from my Jiji, who is about to leave for Canada this December. Too bad we won't be able to go out anymore like we used to, although he said he will be back after 3 years. But then that's too long!
Should I have my internship there next year? I will really miss him.
The Gold bar was from my korean friend. Believe it or not, he is related to
Boys Over Flowers
's Jandi (Go Hye Sun) since they are cousins.

I always visit their Korean restaurant in BF Homes, Las Pinas and met his auntie, who confirmed the story. However, their family is not really that close with each other. I actually had a chance to spend 3 days of my Christmas vacation in Korea, and meet her but it was cancelled for some reasons. Aw. I guess we're really not meant to meet, are we? LOL!
Plug >>
Lahdi
Saturday, November 28, 2009 l 06:29 p.m.





.: Tadaima~ once again!
It's blogging time!
Time to update links.